Hey hey hey glad you feel better! I don't know if you do angst but if you do could you write me some Shuri x Mj with this prompt: "What if I'm in too many pieces now to fix myself again?" Totally ok if you don't wanna I can send something else.😊
Deep and Unspoken
A/N Hey hey hey sorry babe I opened the message and then it got lost and I couldn't find it till I got on my laptop I'm so sorry anyway I hope you like this. And I LOVE doing angst fyi ❤
Pairing: Mj X Shuri
Warning: just some good old Angst
Word count: 515 just a short one for yah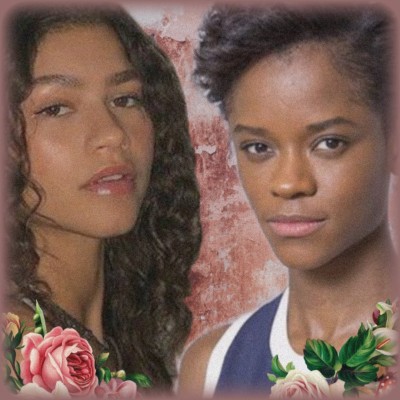 The key was in the ignition before Shuri could even finish her sentence. The street lights and signs all blurred to thin colorful lines and the low voices on the radio merged into hushed faded sounds.
It was a regular routine. Mj would rush over to Shuri everytime she broke down, and it was often.
In the day Shuri would be fine, more than fine even. She laughed the loudest, and smiled the brightest. She was vibrant and full on life but when the night came, her smile dimmed and sobs replaced her laughter. Her vibrancy drained to a sad grey dullness.
Mj was the only one who could pull her from this dark place she put herself in. She'd fall apart each night and Mj pieces her back together. Their love for each other was on a subatomic level. It was deep and unspoken, It was simple but profound.
The door to Shuri's apartment was already cracked open a bit, so Mj stepped in and walked towards the bedroom where she knew she'd find her. Aching crys hollowed out the room, if filled the space with thick dense air, it swallowed up the light and left only shadows.
Mj rushed to Shuri, sliding down the wall beside her, resting her head on Shuri's shoulder.
"Im here now it's ok, Come on get up, let's get you cleaned up and back in bed" Mj whispered in a soft hushed tone but Shuri did not reply.
"Hey, I said come on. I'll put on a movie and make some popcor-" Mj said while pushing herself off of the wall until she was interrupted by Shuris shaky low voice.
"Stop, just STOP. I..I can't do this to you anymore, I can't keep letting you come to my rescue and fix me, it's not fair to you, it's not right"
Mj brows sank down in confusion, Shuri's words repeating in her ears like a painful sting. She kneeled down next to Shuri placing her hand on hers, thumb rubbing softly on shuris skin.
"I don't fix you, I don't even come to your rescue. I come to remind you that you are strong, the strongest person I have ever known, you and only YOU can put yourself back together" Mj explained, her eyes never leaving Shuri's.
"But What if I'm in too many pieces to fix myself again? What if I can't this time?" Shuri stammered tears soaking down her face, pain painted in every word that slipped out her lips.
"Hey listen to me, can and you will because you have to." Mj insisted a shy smile creeping up her face. There was so much more she wanted to say like how her world would be mute without the sound of Shuri's laughter and each room would be empty without her presence, the warmth of the sun would remind her of her skin and dark oak trees of her eyes, but she didn't have to say those things because she knew.
They had a love that was deep and unspoken, it was simple but profound.