With Great Promises, Comes Great Responsibilities ~ Peter Parker🌟💕
Part-5 of the Eight Days Of Valentine series
Warnings: swearing, angst, fluffy fluff.
I'm sleep deprived 😴 Peter is literally me in this one-shot.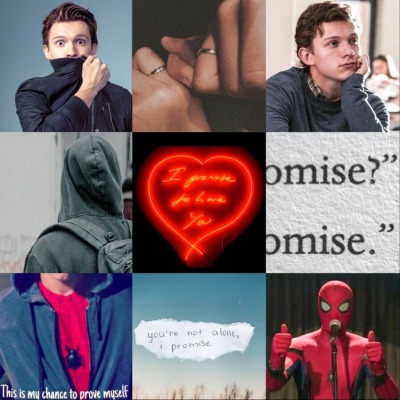 With great promises, comes great responsibilities. Peter promised a lot of things to a lot many people, but how many of them did he actually kept, even he didn't know. Peter's head was throbbing and his eyelids were about to drop any minute, but a shrill sound of the school bell made him wince and groan mentally.
This was the first time in history that Peter didn't want to go patrolling. He promised May to come home at time and after recieving the two hour lecture from Principle Morita on what to do with life, he was done with life. His head was killing him and he could feel the blood running through the veins in his head, quite literally.
The first period was a blur, a very long blur filled with mathematical equations and dumb comments made by Flash. Peter had no intention of raising his hand or for the teacher to notice him in the class thought he knew all the answers to the questions.
The second period consisted of Ned talking about Star Wars which diverted his mind a little from the severe headache he was experiencing since the morning.
In the third period, he sat with you, "Hey, Pete. Good morning!" You greeted cheerfully, blinking at him through your partially batted eyelashes. Often, he thought how you were able to be that smiley and happy and a mere smile from you would lighten his day, but now he couldn't help the roll of his eyes when you did so.
"What's so good about this morning?" He asked a little too harshly for even him to like. Your optimistic self was taken aback at his behaviour. Normally, it was more or less the same routine, Peter would sit next to you and first you'd start talking and slowly he would come around and start talking himself. That was the reason you guys are best friends, you were the talkative one. But today, Peter seemed rather sleep deprived. His eyes were red due to the lack of sleep, his shoulders slouched and there were bags under his eyes, he appeared more than sleep deprived.
You didn't want to push him, judging by his grumpy mood, so you started talking about something that happened in Geography in the first period, he didn't listen. He didn't care at this moment, all he can focus was on the field outside the window which looked very peaceful and comfortable to sleep on.
Finally, the lunch period was there and Peter was walking beside Ned like a zombie. He really appreciated when his usually talkative friend didn't speak so much and they reached to the cafetaria hardly saying any more than five words.
You were sitting at the regular table with MJ across you. For a moment, Peter considered ditching food and going to the library to have a peaceful sleep, but it was too late for that when he was already sitting beside you, as always. He saw your bright smile, and he tried to resemble yours but it looked too much endeavoured. Finally, he sighed and dropped the idea just placing his head down on the table and feeling the coolness of the metal table numb the wild pain in his head.
He found himself jealous of your demeanour. How and why were you this bright ray of sunshine all the time. Didn't you have any problems in life?! He could hear chattering in the background and with his heightened senses, he could hear loud and clear what you were talking about.
"What is up with him? Why such a mood?" You asked with a tint of worry in your voice. This made his lips curve a little and a small smile appeared on his face as he reached for your hand under the table and slipped his into yours, gently intervining your fingers. This was a regular thing, this was your thing.
At least the lunch wasn't a disaster for Peter as the small circles you rubbed at the back of his hand calmed him down and his headache got a little better.
A little.
All he wanted was to sleep peacefully in his bed. Was that too much to ask for. You were walking beside him to his apartment, talking about how the day was and what you've planned for, Peter was too busy to listen to your rambling. He was like a puppy stuck in a room who wanted to go out. Or he could go in and sleep.
You reached the apartment building and soon Peter's pace increased and pulling you with him, he ditched the lift and walked briskly up the stairs. Taking out the key from his pocket, he opened the door to the apartment and entered inside with you following. He called out for May like he always did after entering apartment. When no response came from around the house, he pulled you with him to his room and threw his back at the chair of his study table.
"What is up with you today?" You asked him finally as he lied down on the bed, not even bothered to change into comfortable clothes.
"Come here, let's sleep." He said. You just crossed your arms and stared at him. "What?" He asked confused.
"What is up with you today?" You repeated the question. He just rolled his eyes and reached out for you but you moved slightly backwards.
"Oh, don't make me come there and make you to come here." He smirked.
"Let's see what- eep" You squealed as you were brought down by your wrist and fell on top of Peter who eyed you, gently smiling.
"Told you." He said and let out a yawn before pulling you closer and placing a lazy kiss to your lips. You shifted on the bed so you were lying, practically, on top of him. So what? You were two best friends who, sometimes, kissed. All the time. Nothing serious, no one has to know about it.
And it was a peaceful time for Peter as he closed his eyes and finally fell asleep in your arms, to you humming one of his favourite song softly and rinning your fingers through his hair which calmed his pain down.
—
You woke up to see Peter still asleep. It was already six in the evening and if he didn't get up now, he wouldn't be able to sleep at night. You shook him gently and whispered sweet nothings into his ears. Finally his eyes opened and he sat up as you rubbed his back. You smiled at him but he didn't reciprocate.
You didn't mind that much. You let him get up and go to the bathroom. When he returned back, you tried to hug him but he pushed you away. Your eyebrows furrowed in confusion. Something was definitely up with this boy.
"So, you never told me what happened to you?" You asked, recollecting any information provided by him.
"Maybe, because I didn't want to." He sassed back. You were getting frustrated by the moment so you reached out for his arm but he pulled back.
"Peter you're acting really strange today. Please-" You started but were interrupted by Peter mumbling something, "What was that?"
"I said, shut up." He said, now getting frustrated himself. You rubbed your forehead trying to keep your cool.
You reached out for his wrist again but he pulled back again giving you a strange look, "(Y/n), stop!" He exclaimed, "You're being too clingy!"
"Why don't you tell me what is bothering you then?!" You raised your voice, partially yelling.
"You wanna know what's happened?" He yelled. You were surprised, to say this was an understatement. You had saw Peter this angry for the first time. "I'm tired! I promised Mr. Stark that I'd prove myself to him. I promised May to reach home early so we can spend a little quality time but she's not even here, I promised myself that I'd be a better boyfriend but I can't, okay! And you're not helping the case!" He finished, huffing loudly, all his words rung in your head like a bullet train, hitting you constantly.
"Peter you-" You started but Peter shook his head.
"I think you should leave. I'm sorry." He turned away from you. You wanted to reach out for him but you were afraid that he wouldn't want you to do so.
You picked up your bag silently and moved out of the apartment. As soon as you moved out, Peter collapsed to the ground as tears fell on his face, running a hand repeatedly through his hair to calm himself down.
—
You walked towards your house, not noticing where you were going until the number of People on the lane started decreasing, the sun was already setting and Queens was not and ideal place to roam at in night.
You increased your pace as you cornered a grocery shop. Suddenly, a hand covered your mouth and you were pulled into an alleyway, "Who the fuck are you?" You asked the huge man that stood in a blue shirt and dark jeans.
"Being feisty, are we?" He spoke, and a shiver ran down you spine hearing his maniacal voice, "A little birdie told me that you're a friend of Spider-man. Look what your friend did to me." He said, faking a sad tone then suddenly yelled, "Look!"
You flinched. There was a large cut across his left eye, and he wasn't Nick Fury which appeared pretty nasty. He moved his attention from you to dig into his pocket for some sort of weapon, obviously, and you took this as an opportunity to knee him straight in the crotch.
He covered the area and yelped. You took a deep breath and ran towards the grocery store, pulling out your phone in the process.
—
Peter's senses were going crazy, but it had become common in these days. He decided to apologise to you the next day in school but when your name flashed across the screen of his phone, he was quick to shoot a web at it and pick up your call.
"(Y/n), thank god you-" He started but stilled as soon as he heard heavy breathing and shifting on the other end of the line, "What's going on?" He asked seriously.
"Peter." Your voice quivered as you whispered into the phone and Peter winced already getting his suit out of his bag.
"Tell me where are you?"
Peter reached the grocery shop, hanging upside-down from the asbestos placed over the roof, he examined the interior of the store for any signs. The owner of the shop was behind the counter, hands in the air as he gestured Spider-man to save him.
Peter then, went into the store sticking onto the roof as he searched for you. There was only one man as you told him but there's no harm in being extra cautious, right?
He finally found you in the cutlery section, hiding behind a large shelf full of designer plates. He saw the man, Kevin, as he remembered was a drug dealer, rounding the corner towards you. He shot a web at his face and pulled him so that, he crashed against a large metal cupboard onto his right. You ran to the other side of the passage and Peter landed on his feet.
You were scared out of your mind. Fresh tears build up and fell on your cheeks. You heard a gunshot and a 'thwip' sound indicating that Peter was here. You were glad and fearsome at the same time as you prayed to your god.
After a few moments there was an eerie silence before you heard Peter's voice calling out for you. You got up from your hiding spot and ran towards him seeing him safe and standing beside the man who was now webbed to the ground.
Once you were in his arms, you let all the sobs you were holding go and placed your head in the crook of his neck. His suit might be dampened, or covered with mascara, but he didn't care. He could always wash it. He brushed his hands through your hair and the other arm was placed securely around your waist as he commanded Karen to call the police.
"Hey, it's okay now. I'm here, you're fine." He cooed, holding you there for sometime before your sobs turned into sniffles and you parted from him. He rubbed your back soothingly and took you out of there and to your home.
Today was an excruciating day for the both of you but one thing that Peter realised was that you are his responsibility, and he's never giving up on you.
Taglist:
@harrysbbby @overly-obsessed @luckyfiction17 @avengersgroupchat @ollieologys @afictionaladventure16 @hollandraul @clqudsparker @spider-manholland @screamholland @angelhaz11 @farfromhaz @drunklili @spideyyeet @fairytaleparker @venusparker @dazzling-rubabe @hazmyheart @angelic-holland @audreylovespidey706 @lauras-collection @angel-spidey @cherryredparker @ploont @cucumberfingers @greatpizzascissorstaco @the-crazy-fanfictionist