"Mi Matthew, I bake brownie for you," Celia excited, rushing to him as soon as he walked through the door from work, wearing the little apron he had bought for her to wear. And nothing else.
Before he even entered the house, he could already smell the scent of freshly baked goods lingering in the air. A grin spread across his face as he dropped his bag and watched his little wife appear in the hallway wearing nothing but the frilly apron he'd gotten her a day ago. As soon as she was within reach, he grabbed her and pulled her into his arms, demanding a heavy kiss from her plump lips. "You smell amazin'", he grumbled while he kissed her neck and groped her ass. His grin widened as he looked her in the eye. "Brownies smell good too."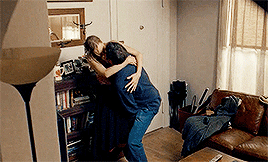 He leaned down a bit, just enough to pick her up and lift her into his arms, carrying her into the kitchen with him, where a plate full of steaming brownies was waiting on the counter. He passed them right by, despite their delicious smell, and headed for the kitchen table instead where he swiped aside all the clutter and laid her down on her back. Before she had a chance to say anything, he kissed her again, hovering over her as she lay atop the kitchen table. "I missed you so fuckin' much", he growled against her lips, stealing her breath with a rowdy kiss while his hands slid underneath the front of her apron and boldly groped at her chest.