Fandom: Legends of Tomorrow
Character/s: Mick x Reader, The Legends
Warning/s: *a lot of googling so sorry if I got it wrong*
Word Count: 1,428

Request:  hi, could you do a x reader oneshot on where the legends try to cheer the reader up after she found out that her favorite festival "Uncle Billy's Day" was canceled (in Altavista, va), by throwing her a festival on the waverider (with games prizes, and her favorite sweets: Deep fried oreos, Sho cones, and Funnel Cakes). including the reader and mick getting together and sharing their "First Kiss" (after mick was caught flirting with the reader)!

Summary: Reader's feeling down after her favourite festival is cancelled, but Mick helps make it a day to remember, in more than one way…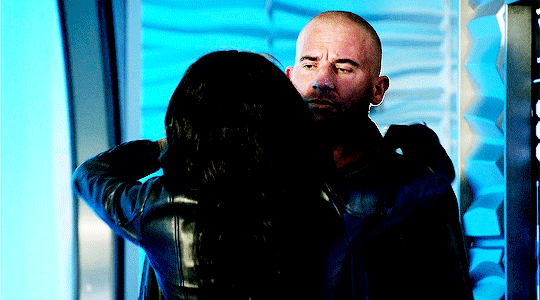 "What are you moping about?" Mick Rory asked, standing in the doorway of the kitchen, watching you slide your pancakes around with your fork absentmindedly. 

"Huh?" You looked up to see him regarding you carefully, equal parts curious to know why you were down, but also clearly not prepared for an emotional conversation. "I'm not moping," you told him a little defensively.

"Yes you are," he replied gruffly, heading more into the kitchen, "it's weird, you're usually more annoyingly cheerful." He approached you at the table and knicked a pancake off your plate, shrugging and looking at you as if to say, if you're not going to eat it then I will. 

You glared at him as he took a seat to eat your food, folding your arms and leaning back in your chair. He stared back at you unblinking. "Fine, you really want to know what's wrong?" You took his grunt to mean yes as you continued. "My favourite festival was cancelled back home, Uncle Billy's Day."
"Why does your Uncle Billy have a day named after him?" Mick asked through a mouthful of food.

"No, not my Uncle Billy, Billy Lane, he founded my home town, Altavista in Virginia. The festival is an old tradition celebrating the businesses and people that make the town so great," you explained, "great music, great food, great atmosphere…"

"That's it?" He asked when he realised you were done, "you know we're on a time ship right, just take the jump ship and go meet your uncle, simple." 

"He's not my-" you realised that that was one part of the conversation that wasn't going to stick with Mick, so you let it go and said, "-look, it's not the same, though that does sound like a cool idea, but I just wanted to spend the weekend with my family, you know? Normal people stuff, eat some food, go around the market, watch the fireworks… You just- you don't understand, it doesn't matter." 
You reminisced about the many years spent visiting the festival with your family, this would be the first one in as long as you could remember that you wouldn't be able to go to.

"What's there not to understand? You don't get to spend the day you wanted with Uncle Bill and your family," you rolled your eyes but he didn't seem to notice, "family's important to you, I know that, doesn't mean you have to spend the whole day moping though, frowning will give you wrinkles."

With a sigh you pushed your plate away, with Mick willingly taking it off your hands and grabbing your fork. "You know what? Forget I said anything, I'll be in my room." You headed out the door, Mick watching you leave out the corner of his eye.
-
A few hours later you were blasting music out your headphones and flipping through an old family photo album. You loved being a Legend, and you wouldn't change that for the work, but you missed the simplicity and normalcy of your life back home, the traditions you had with your family, and not being about to go to Uncle Billy's Day with them was making you homesick.
You were so lost in thought that you missed the knock at the door the first time, but pulled your headphones down once the banging got louder. Heaving yourself out of bed you opened your door to reveal Mick, looking rather embarassed as he gestured for you to follow him. "Need you on the bridge." Was all he said.
"Okay, yeah," you followed after him, unsure why he looked a little fidgety. You'd never seen him actually look nervous before, but he kept glancing back at you as you headed towards the bridge, what was going on?

You realised, however, when the door opened, to reveal the rest of your crew shouting, "Surprise!" Around the room were tables of food, music playing, as well as various games and decorations.
"What's all this?" You asked in surprise, looking from Mick, who avoided meeting your eyes, to the rest of the crew. 

Nate replied as Behrad passed you a plate with a slice of funnel cake on it. "Well Mick mentioned you were a little down today because you couldn't spend the weekend at your festival with your family, so we thought we'd bring the festival to you."
"Yes we've got party poppers, streamers, and the most sickeningly America desserts you could ever imagine," Constantine chimed in, glancing suspiciously at the deep fried oreos on a tray. You grinned as you looked around.

"Well don't just stand there, come on!" Sara grabbed your free arm and pulled you into the room as you looked around at what they had done for you.

"You guys did all this?" You asked in equal parts gratitude and disbelief.

"Yeah well, you couldn't be with your family at home, so we figured this was the next best thing," Charlie patted you on the back.

"Thank you," you told them, taking a bite of your cake and smiling widely.

"It's Mick you should be thanking," Ava replied as Mick shuffled awkwardly in the corner, "it was his idea."

"Really?" You turned to face him and he cleared his throat.

"Yeah, well, you looked miserable, it was annoying so…" He shrugged, grabbing a beer and from an ice box next to a sno cone machine and heading to grab some cake, not giving you time to thank him properly. Emotion wasn't really his thing, but it made you heart flutter that someone would care enough to do something like this, this was a big gesture coming from Mick.

"Well, what are we still standing around here for, let's get this party started!" Sara cheered, "we couldn't really get the carnival here so we've improvised some drinking games and added prizes to them." You looked to where beer pong was set up at the side.

With a grin you put down your now empty plate and took a paddle, with Nate excited grabbing the other one before anyone else could. "This is going to be so much fun," he said and you agreed. 
This may not be how your day was supposed to go, but they'd made their own festival for you to make you feel more at home, and it was absolutely perfect.
-
The day was getting on and your sides were hurting from all the laughing, games and sweets, so you went to take a breather out in the hall while the others played some variation of Heads Up.
To your surprise you found Mick out in the hall, helping himself to the oreos that had somehow gone missing earlier. "Hey, you done already?" He asked, looking to from where he was sat against the wall. You slide down to join him and helped yourself to some more food.
"Just taking a minute, why aren't you joining in?" You asked him.

"Not really my scene," he replied, having another sip of his beer. "I'm just glad you're enjoying it."

"It's better than I could ever have asked for," you told him, noticing the corners of his lips twitch up into a smile. "Thank you, really, you didn't have to do anything of this."

"Team effort," he said, looking to see you staring back at him. You put a hand on his arm.
"But it was your idea, you're kind of the only one I told about today, so thank you for making it possible," you noticed that he'd gone pretty still under your touch, eyes not leaving you as you felt yourself leaning in a little. "Thank you for caring, Mick."

You could see his eyes glance down between your eyes and your lips, leaning in a little too but letting you take the lead as you planted a light kiss on his lips. He seem practically frozen in place as you drew back, unsure whether you'd been reading the signals right. But the shock wore off of him quickly as he pulled you back in with a little more force, kissing you properly - you'd definitely not been reading those signals wrong.
Your hand when from his arm to his collar as you pulled him into you, not wanting the moment to end as you both lost yourself in the kiss. When you eventually broke apart to breath you smiled at him, noticing the soft and caring look in his eyes. 
"Sorry this wasn't the day you had planned," he mumbled, face inches from yours.

"That's okay, today was a good day."