'Message Recieved" - Katsuki Bakugou
A/N: This is a gift for @mcchristinaconlinobeyme who wrote me lovely little fanfic in return 💖
Pairings: Katsuki Bakugou x F!Reader
Warnings: Stalker-ish and abusive tendencies from reader's father, Bakugou's filthy language
Summary: You thought your villainous father was out of your life for good. Until the letters began to arrive.
Word Count: 2.5k
masterlist requests are open <3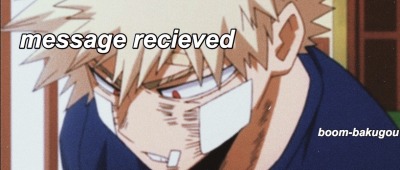 It was little things at first. You couldn't help but notice your name on flyers when you would go into the city. When men would bump into you in the street and before you had time to apologise they'd have run off without a trace. U.A. knew of your fathers history which is why they felt it necessary to have you be under more protection at school.
Though soon enough you just began to think that all those little occurrences were nothing but that, your plagued mind worrying yourself that something was bound to happen. But the teachers were taking care of you, nothing was going to change that.
Until the letters began to come.
Suspecting it was another student leaving small love letters out for you, you didn't particularly pay much interest in it. The notes saying things like 'Hello Y/N' and 'I've missed you a lot'. But one night as you were fading into sleep you heard the small drop of paper onto your balcony. Itching your eyes you feigned awakeness to try and see above you if someone was there and dropped it onto your balcony below. But all the lights were off on the floor above. Opening the envelope your blood ran cold, your feet stepping back until you tripped and landed with a heavy thud.
When are you going to come back home to me Y/N?
Nothing could stop the wave of tears from flowing down your face or the choked sobs falling out your mouth, you could've woken up the whole floor but you didn't care as the shock settled in. You were doomed. It wasn't until there were loud raps banging on your door that took you out of your swampy wallowing. You didn't even wipe your face as you went to open the door, your hands shaking as you twisted the door handle- expecting to see your father there.
"Can you keep the noise down idiot some people are trying to slee-" Bakugou stood in front of your door, hair disheveled from his rudely awoken slumber. "What's up with you?
It wasn't common knowledge for a lot of the students to know about your father since you had been placed under witness protection. The teachers felt it better that way also as a means for the other students to not think of you any differently from themselves.
"I need to see Mr Aizawa." Your hands had unbeknownst to you; crushed the paper. You'd been safe for so long, why now? Why when you're finally happy why does it have to crawl right back up to you?
"Yeah." His answer was curt but he could see you not even taking the effort to move, or even look him in the eye. Bakugou knew something was immensely off. "Look. I'll take you there."
Bakugou's hand finds the small of your back as he tries to guide you towards the elevator so you two could head to Aizawa's room. Bakugou took a short glance at you while you waited in the elevator. He didn't like seeing you like this, pale, sickly. And your eyes looked like they wanted to set that small piece of paper alight. Right now, he would give anything to take you out of how you're feeling.
When you finally reach Aizawa's dorm room, you don't even lift an arm to knock so Bakugou proceeds for you. It takes a few moments for him to awaken and answer the door, his eyes gleaming with anger as to why you're here.
"You two better have a good reason for being up on a school ni-."
"I think my dad is trying to get me back." You uttered.
It was the first time you spoke in that whole few minutes of making your way up the dorms and it felt like years of silence. Aizawa's gaze lifted with a look of worry, asking you to continue.
"I didn't really think about it at first, but I've seen things when I've been outside. Posters with my name on it and small threats. I figured it was just something dumb but it had to be him. A few nights ago I started getting these letters on my balcony, they were harmless so I thought one of the other students was playing a prank on me. Until I got this one."
Your hand shakily lifted the crumpled envelope and Aizawa took it and scanned it over. Sighing as he prepared himself to speak.
"Do you think he's trying to get you to join him in his criminal activity?" Aizawa asked, yet before you could speak Bakugou piped up; clearly confused by the interaction.
"Criminal activity? Y/N? Is someone going to tell me what's happening here?" Bakugou did his best to keep the volume of his voice lowered but it still stuck out sharply in the empty halls. His hands crackling with annoyance as he struggled to understand the context.
"Bakugou that's enough from you." Aizawa's eyes gleamed of his quirk and the small popping and smell of caramel soon dissipated. "You've heard enough now go back to your dor-"
"Actually Mr Aizawa, I'd prefer it if he stayed." Your voice sounding slightly more confident than before, looking to Bakugou who's shock rang in his eyes. He was just happy that you wanted him there. His defensive presence was almost… calming.
Aizawa acknowledged your wishes and asked you both to wait as he contacted the other teachers to be on the watch out for any disturbances on school grounds. He agreed that he'd take the night to keep watch but the teachers tomorrow would have to set up a schedule.
"Now I know you can handle yourself Y/N, but I'm trusting you Bakugou to make sure she gets to her dorm safely." His eyes shot between the two of you, sympathy washing over you as he glanced at your sickly expression. "We'll keep everyone safe."
And with that Bakugou walked you both back to your dormitories. Not wanting to deal with the silence for any longer, Bakugou broke it with a sigh before speaking.
"I know you probably don't want to talk about it, but your dads a villain?"
You nodded, you knew everyone would do their best but your father was sneaky, manipulative. He played games no one knew how, and it terrified you. Why hadn't you seen it before? All the messages, the ways to get into your head. It was suddenly all at once eating you alive, the feeling of eyes all over your body.
"Thank you. For- staying with me." You sigh, allowing yourself to be enveloped by the darkness of your room. Not even giving Bakugou a chance to say 'you're welcome' as you shut your door. Sliding your curtains closed and double checking to make sure that everything was locked, you succumbed to a worrying slumber. The thought of your father in the front of your mind.
Throughout the days, things wore off. Your father clearly having taken a hint that security at UA had increased since his last letter. But nothing would stop him from having you back with him. And that was when the text messages started.
'You know the fates your friends will meet if you don't find me Y/N'
'You can't hide from me forever'
You hadn't told the teachers of the texts for some moral high ground you had set upon yourself that you could push through it. He wasn't in your life anymore and bu hacking into your phone wasn't any different. Until the last text.
'Tomorrow. They'll all be dead because of you if you don't show your face at the park, midnight. Don't think I won't.'
Attached to the message were selfies of you and your friends from 1-A. Laughing, smiling, having a good time together. But it was the last few photos that caught your attention. Pictures not from your phone. Photos of you and Bakugou taken from distances away, just days when you were all out shopping and hanging out on weekends together with the rest of the Bakusquad. But with every swipe of your finger, the pictures got closer and closer.
'Katsuki Bakugou right? Don't think I won't blow him to smithereens too. Take up my offer or watch your friends and your little boyfriend's faces be splattered all over TV screens at my hands.'
You swallowed the lump in your throat. This was it. You had to join him. For the safety of everyone. Packing a small bag you slipped out onto your balcony, manoeuvring ways to get down and out of UA Heights in the dark. You stifled sniffles as you snuck out, probably never going to see your friends again, and Bakugou… he was rough around his edges, yes, but he was the only one who knew. Who knew what you had been through, the torture your father had put you through. You knew you couldn't burden him with the texts you had been getting though, he'd been your therapist enough. You had to leave. For him.
Your father didn't give any descriptors on what park to head to, but you had your hunch. It was one that he used to take you as a kid with your mother. But that memory was all but a dream. Walking around the dimly lit paths, you searched for any sign of him before an arm tugged you into the rough of a bush. Expecting this to be your fate, you lent into the attacker.
"What do you think you're doing?" The harsh whisper of Bakugou's voice was weirdly music to your ears. His eyes had bags underneath them, an abnormal sight for the boy who went to bed at 8pm every day.
"What're you doing here?" You shot back, keeping the hushed tones. Knowing your father would kill Bakugou on sight if he saw him here.
"Stopping you from doing something stupid, idiot!" His hands gripped tightly at the sides of your shoulders before dropping them as he realised he might've been scaring you more than he should've been.
"I knew something was up. I fuckin' knew it." Bakugou shook his head, you couldn't read him in the darkness of the leaves surrounding you both. "I knew he wouldn't just up and leave. Fuck-"
"Why did you follow me Bakugou?" Your voice was angry and you could see the look of shock on his face. It took him a few moments to answer before he gave a sigh.
"To take care of you idiot." His voice is but a mere grumble, but it's as clear as day in the quiet of the park. "You don't have to suffer in silence. I- I'm worried about you."
He shoots a side glance at you, obviously worried about your wellbeing. His eyes dance over your face so delicately, taking in every small aspect of it. As if he's studied it for hundreds of years and knows each freckle by memory.
"You can't be here." You didn't even realise you were crying, the look of realisation set upon his face.
"He's here isn't he?" His question is simple enough but it feels like a ton of bricks on your neck as you try to nod.
"Y/N~" your dad's voice rings out in the dark and it sets the two of you upright. The anger washes over his face and you realise that he can no longer hold back, and you can't even stop him. Nothing ever stops Bakugou.
"You think you can just lure her away you freak?" Bakugou's words reek of venom, his figure slipping out from the shrubbery, palms crackling like 1000 party poppers. "You'll never lay a finger on her!"
Bakugou is the first to blast, you can't help but hide in the bushes as the fight ensues, too terrified to show your face in case your dad swoops you away. But… what about Bakugou?
"Where is she?" Your father's voice rings like a lion's roar, it sends bile up your throat.
"Somewhere you'll never find her!" Bakugou lies through his teeth, hoping to buy some time.
Before long it's an all out flashy quirk fest. Your father's quirk being that of scorching energy beams, not an easy fight for the two. It didn't take too long before your father eventually clipped Bakugou with one of his beams, sending him flying into a tree.
"Katsuki!" You scream out, revealing your hiding place. Scrambling over to Bakugou's slumped over body you try to wake him up as your father chuckles and stomps over to you. You manage to throw him back for a few blows, keeping him away from Bakugou and yourself before you hear voices. The teachers. The sight of your father being captured by Aizawa's scarf couldn't help but feel like a breath of fresh air.
"They get here okay?" Bakugou chokes out from underneath you, his eyes squinting at the heroes.
"You called for help?" Your face was wet with tears, once falling because of fear and desperation and now just happy that Bakugou was seemingly alright. "That's not like you."
"I didn't care what happened to that fuckin' idiot." His hand lays atop yours, switching his sight to you with a small smirk played upon his lips. "Just that you were safe."
"Katsuki I-"
"I care about you a lot Y/N." Bakugou sits himself up, wincing, so he can look you better in the eye. "I just, wanted to make sure that you were okay because… well I like you okay?"
The admission seems to hurt him but feels like a relief off of his chest.
"You were there for me Bakugou when I needed it." You pull him delicately into a hug, the explosive smell of caramel and firewood playing upon your senses. "And… I'm thankful for that. Plus I- like you too."
"You're not just saying that because I saved your life are you idiot?"
You can't help but chuckle a bit.
"No Bakugou. As I said, you're there for me. And that's why I like you… a lot."