#coronavirus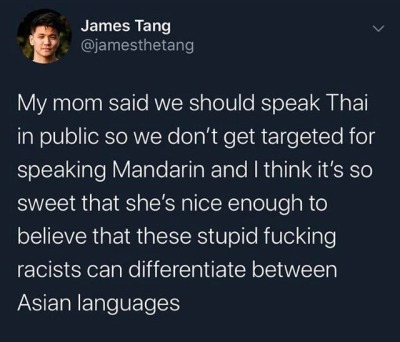 i do not feel safe
when the horrors of the world
creep in and remind me
that the mistakes of my ancestors
the folly of my leaders
and the color of my skin
could get me killed
through no fault of my own.
i do not feel sane
when innocents are condemned
for who they love
for who they are
for what they look like
and especially not when i realize
that i am not only
one of the damned
but one of the damning.
i do not feel anything.
when i am overwhelmed
by my surroundings
and by my self
i do not feel anything.
and when i feel this way
i know it is time to
stop.
step away.
breathe.
in,
and out.



talk to somebody
take a break from the madness
do what makes me feel centred:
listen to music
read
write
hug my family
text my friends
love myself.

because even though the world is burning
I do not deserve to set myself on fire.
It would also be a shame if someone with more musical talent than me wrote an anthem type song with the phrases the protesters have been chanting so we can sing that while getting shot at by our own military and protecting ourselves with household items all in the name of radical justice🤷🏻‍♀️
bc I mean, the rest is already happening but music is an overlooked power source👀
2020 are 365 falling dominoes and each domino represents a disaster
We cannot decide when this is over.
We cannot decide when the pandemic is over, so please stay safe.
We can not decide when racism is over, so please, continue to fight.
We can not decide when someone's life is over, so please stand up for those whose lives have been cut short.
Stand up for what you believe. Stay safe, both physically and mentally. Be kind. Love others.
Aparna Alluri, 'India coronavirus: Why is India reopening amid a spike in cases?', BBC
On 30th May, India's government announced plans to end a national lockdown that began on 25 March. This was expected - the roads, and even the skies, have been busy for the last 10 days since restrictions started to ease for the first time in two months. Many businesses and workplaces are already open, construction has re-started, markets are crowded and parks are filling up. Soon, hotels, restaurants, malls, places of worship, schools and colleges will also reopen. But the pandemic continues to rage. When India went into lockdown, it had reported 519 confirmed cases and 10 deaths. Now, its case tally has crossed 173,000, with 4,971 deaths. It added nearly 8,000 new cases on Saturday alone - the latest in a slew of record single-day spikes.
Next Page