soooo many of you wanted me to talk about how i make super cute rolling weeklies in my bullet journal so here we are!!!! the photo directly below is my finished spread. in this post i'll walk you through how i made this spread :)

so here is what i started with. ok well i started with a blank page of course but the first thing i do is choose some pictures and other media. i arrange it without glueing anything down first just to come up with something i like. then of course i glue it down. after that, i start in the top left hand corner and write down what day it is and then i start my to do list.
a couple days later and this is now what my spread looks like. tbh i'm not that big of a fan of the top because i think it looks a little too squished. too late now. i like to change up what font and color i use for the day's "header." that's what helps make it look cooler in my opinion.
moving on. i spaced my daily spreads out a little more because of how cramped it was before. when choosing where to start each day, i kinda do it like you would see it in a magazine??? so skinnier "paragraphs" that restart. i hope that makes sense. let's just say i don't go straight down or side to side, i kinda judge what space would look best next. that is also decided with how much stuff i write down for each day. ahh i feel like i'm rambling i hope that makes sense.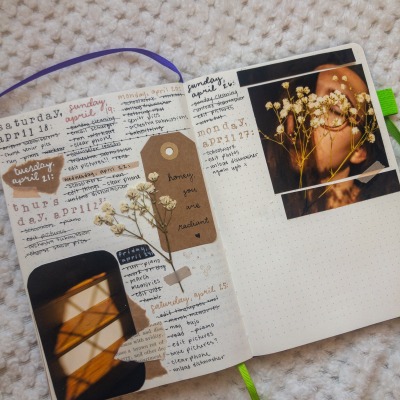 officially finished one page so now moving on to the second! i didn't have much of a choice on where to put each daily so that was honestly kinda nice. as you can see, i'm continuing to change up what font and color i use. what makes it look cohesive tho, in my opinion, is the fact that all the tasks are in black pen.
and here we are at (almost) the end! there was that huge space at the bottom that i had NO IDEA how to divie up. so, i slapped on a picture as well as a torn piece of book to kinda break up the space. there's still a lot of space at the bottom but i end up filling most of it up.
and here's the finished spread!!! there is still some space in the bottom that i didn't end up filling but that's ok! remember that you can do literally whatever you want in your bullet journal and in your rolling dailies (dailys? daylies?). also, it's ok to not write down every single day!!! i didn't end up skipping any this time around but if you do, that's ok!!! also, know that you don't have to fill up every single space. it's good to have empty space.
you can literally do whatever you want. hope this was informative and it helped! if you want, i can do more of these just to show the process! i know it's a little intimidating when you see these super pretty spreads but don't know where to start. it's just adding things daily that make it :)
OH! also note that this spread took almost two weeks to finish!! i did not do all of this in one go (duh they're rolling dailies). i worked on it little by little and that's what wins the race. if you have any questions, feel free to reach out!!!
xo- gg