If you use your yellow journal as a bullet journal, do you have more pics of the spreads? ☺️
Hi! Yes I do, thank you for asking. I keep a bullet journal for two years now and like many people using it, I can say it's the first time when my time and tasks are really organized. I use it mainly for my studies but I jot down other tasks if I have them on that day. I'll attach photos to show how I use it.
This is the one I use, it's the Dingbats Earth Lime medium A5. Before this, I had Sky Blue. None of them is in my range of colours but this collection donates for fragile ecosystems and it has inside information about it (the yellow one is for Serengeti).
I am not very creative with it, but I do use it every day to organize especially my working hours. I wish I was more creative with washi tape and drawings and calligraphy but I am not, so for each month or year I just think about some elements that speak to me and create something of the sort you see in the photos. Usually, I use scraps from old Romanian magazines and travel guides adding objects from around that time of the year, the leaf is from the surrounding park of the Ethnography Museum in Prague, we just returned from that trip when I created the spread.
My spreads are very simple. I don't have mood trackers or quotes or wish lists. I had some of these in the first bj but I didn't keep up with them. So I realized I'm on the more practical side and for the second bj I kept only what works for me.
1. First I have my yearly calendar, where I keep track of travels and other important dates, but not deadlines. (these are ok to show because covid-19 washed them all away)
2. Second, I have the semester overview where I write the deadlines for my modules.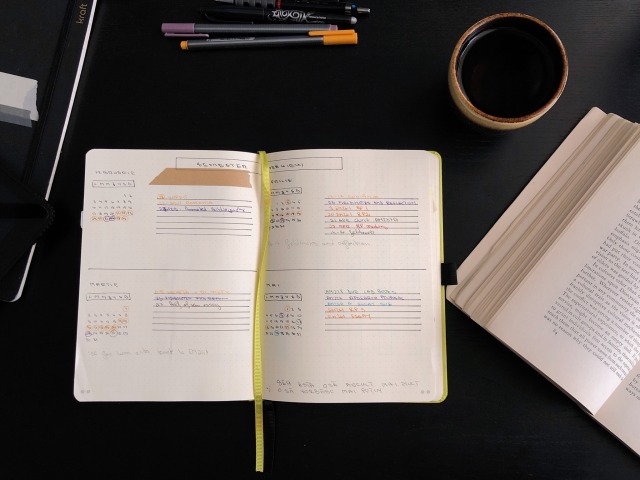 3. My semester weekly schedule next to the semesrer assignments with their important details.
4. Next, I have the month followed by weeks. Different from many bjs I've seen when creating my own, I give each day a lot of space because I have many things to study. So for each day I draw a grid, filling each square with colour. The colour code is very easy, I have different colours for each module, yellow for breaks or things outside of University and a faded mauve for the study hours. I like to track how many hours I study on a day and then in a week. I can visually control what I'm going to put each hour of work into and it helps me a lot.
Also at the end of each week, I have a page with that week's readings split on modules.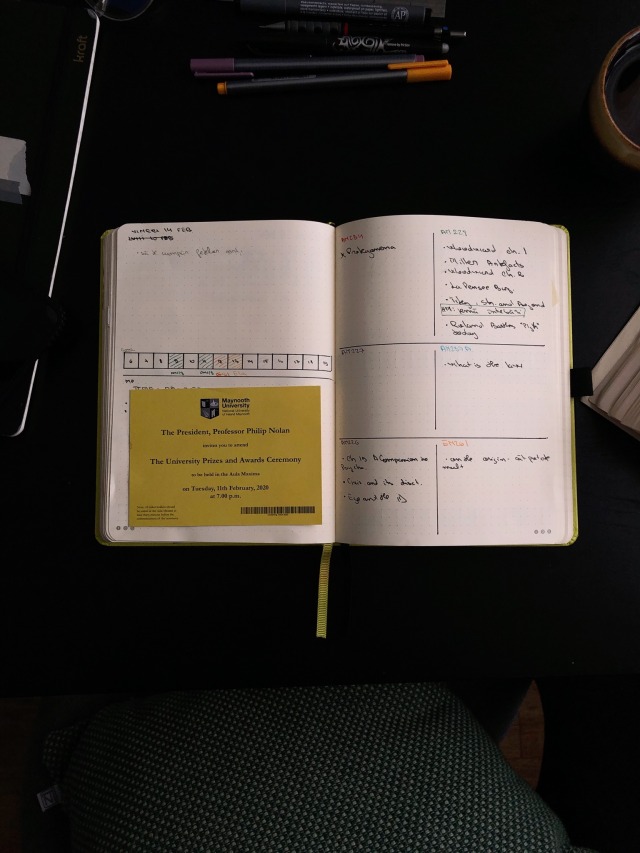 On very rare occasions when I have study week or a big thing to read or do, I'll leave some pages blank for that.
Apart from my bj, I keep a traveller's journal which has three different notebooks that I can replace. One of the notebooks is for notes, scraps of my own writing, ideas that come to mind randomly, or other things. Another is just with titles of books that I want to read and the third tracks the ideas I have for my thesis and my master and even PhD.
And that's it. Wish it was more interesting than this, but like I said it's more practical. Still, I love it and think it's the mist amazing and creative way for keeping track of your life.