NEWS FROM THE VEG FORT:
Shwmae!
The Veg Fort is awake and the first harvest has been collected!
Radishes, the backbone of the Veg Fort have marched forth to wreak tasty war upon the forces of Big Salad!
A replacement squad has already been seeded.
I was talking to an ally in the rebellion recently about how as much fun as tending to the plants is, the really fun bit of gardening is the infrastructure stuff, like building the beds, etc. I thinks it's because if you do that stuff right then it shows in produce. It's always a rush when you gather food you've grown.
My potatoes are truly mighty and if they weren't confined to a tub would probably have taken over the world by now.
So this week was busy in the Veg Fort. Pretty much everything that was in seed trays is now out in the fort.
I relocated the spinach plants that were next to the shallots and in their place put four of the corn stalks. I've also had to put one of my leeks in the middle of them because I had no room anywhere else.
The remaining three stalks are in a tub and these will probably be the ones I let got to seed.
The spinach had a minor mutiny after being relocated but this picture from the next day and they've got their act together and are ready to take the fight to the industrial salad complex.
The leeks are in. Only had room for six of the eleven and that probably being a bit snug. Had to distribute the others anywhere there was space. Although I seem to have lost one. I know I planted all of them. But can only account for four of the redistributed leeks. So either it's gone AWOL or gone rogue! Not sure what's scarier.
The carrots continue to do well. I never really do well with them but I'm hoping this year will be different.
In the Hugelkultur bed I've planted the Red Iceberg Lettuce and Red Leafed Kale. And at the end I've squeezed in two leeks… actually looking at that photo I may have found the missing leek. Lemme go check…
*Goes out side and does a head count*
Yep. Mystery solved. The missing leek has been rediscovered!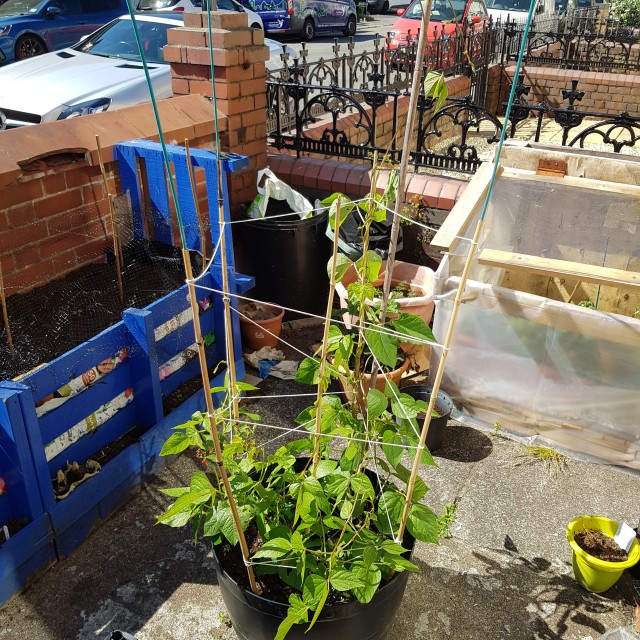 The beans are doing well. I've had to extend the poles so there got a bit more height to grow and flowers have already started to appear.
So yeah, it's all go at the Veg Fort. There's more I want to show but Tumblr has its stoopid ten image limit, so I'll save those for the next update.
I'm concerned by how infamous the Veg Fort has become within my neighbourhood. Everyone stops to have a nose and when I'm working out there everyone always stops to talk and tell me how the Fort is a regular topic of conversation between them and their friends. Security precautions mean I have to assume they're all spies for big salad so I reveal no useful information. But it's nice that people take an interest. There was even a partially sighted guy who commented on the silhouettes of the Fort always looking amazing, which is kind of fascinating to think of now I know that's how someone sees it.
That's all for this update. Hope you're all doing okay and remember: don't let the bastards grind you down.