aw shit look who's got the time to do some of these again yeah that's right it's me
22/7
For 11/12 of its runtime this was an astonishingly forced exercise in hacky tragic backstory that thoroughly answers the question of what happens when assembly line jobbers jump on the already rickety KyoAni bandwagon. So I was ready to give it a well deserved meme score of 3.14/10. Then it remembered it actually had a gimmick and managed to completely fail at that as well, with one of the most thematically misguided endings I can think of. Oh well, if nothing else I laughed. 2/10
Asteroid in Love
Well, it's competent and inoffensive. What else can I say? I guess it's pretty amusing how blatant the gay marriage implications get by the end, but that's not really, you know, quality all by its own (and Harukana Receive does it better). It's also weird how its first season clearly ends at episode 9 and it just quickly does a second one in the time it has left. Apart from that it's a slightly above-average Kiraralike with good character moments but a real drought of content (note: dropping exposition on your topic isn't content) in the middle. Fun enough, but really doesn't leave me wanting more. 6/10
Dorohedoro
This had much potential to suck but then it didn't. The biggest surprise was that Dorohedoro is a comedy; a splatter comedy with a core story worth taking seriously, yes, but this is not horror, or mystery, or even action, even if it has all those elements at points. And it manages to be consistently funny. The other big surprise is that the nonsense really does start to come together and is meaningful where it counts, so it has much better worldbuilding than most. Looks really good too - you might take exception to the CG, but it allowed MAPPA to make the rest look great so it's overall still a plus. Definitely needs a sequel though, because the plot seems to just get started and then it ends like there's an episode next week. 8/10
ID: INVADED
Ei Aoki's Inception fanfic turned out very nice, with neat visuals, cool characters and a story that comes together in the end. I mean, come on, it's an anime where Kenjiro Tsuda literally talks people to death, how can I not like it. It's not perfect; it's stuck with some pacing problems, strangely superfluous side characters and ultimately less ambition than it could (maybe even should) have. But it's also weird in a good way and moderately thoughtful without being pretentious about it. 8/10

If My Favorite Pop Idol Made It to the Budokan, I Would Die
Romantic comedy? Eh, maybe not quite. Funny riffing on wota dumbassery without being mean-spirited about it? Yep. Oshibudo gets the tone (the critical aspect in a show like this) right and it actually ranks fairly high simply as an idol show when that's not even the point, which is really surprising. It's just very charming, even if a little simple. 8/10
Keep Your Hands Off Eizouken!
So everyone's losing their shit over how great Eizouken is and I'm just like nah, man. Not that it's truly bad, it certainly has its fun moments and undeniably cool animation at times. But it really says a lot when in a show supposedly all about how amazing creativity is, the no-fun-allowed producer is the only character I like - Kanamori is indeed great, shame about Nerdlinger and Plot Device though. And it's full of the kind of standard boomer animation bromides that just make me think "well, if Ghibli is supposed to be so great, why am I watching this instead of the real thing?" It also has notably poor and uncreative use of background music, which wouldn't irk me as much if it wasn't lecturing on the topic. At this point I'm fairly certain that I simply don't like Yuasa's style much, no matter what he does. 6/10
Magia Record: Puella Magi Madoka Magica Side Story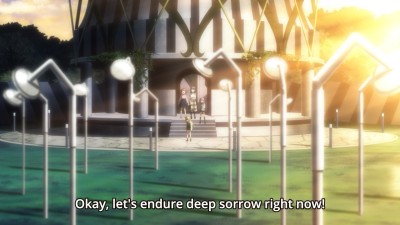 So I'm watching the "final" episode of this and I realize that I care about this random, poorly explained fanservice fight between Mami and Sayaka much more than I care about any of the characters this show is ostensibly about. And that's pretty much Magireco in a nutshell: It has very little of its own, what it does have is split among way too many video game characters, and it's at its best when it's just being dumb and bombastic or lazily replicating the style of Madoka. It's definitely not good (and the things it does to the Madoka lore are double ungood), but as long as you keep in mind that it's just meaningless Madoka-ish things, it's barely entertaining enough. 5/10
Natsunagu!
Natsunagu turned out to be a pleasant (if very cheap) short film that's severely compromised by broken up into weekly 3-minute chunks. Episodes that short can work, but not for material that depends on atmosphere and character engagement. I can only assume I'd like it more if I watched it all in one go. 5/10
Science Fell in Love, So I Tried to Prove It
This one started out as a one-note romantic comedy with the rare novel note, which then got more and more tired as it went on, and the introduction of decidedly less novel characters didn't help. But by the end it recovered somewhat from not being much good at comedy anymore by being actually pretty good at paying off a romance, which is maybe even rarer. Remove bear though, what the hell. 6/10
Somali and the Forest Spirit
Somali just kept doing its thing (which is dadfeels/protect the blob). Still can't think of another show so intensely laser-focused on that one thing, to the point they're constructing an entire fantasy universe around it. I liked the fluffy/introspective parts a lot more so than the grimdark/"let's get Somali into some danger so dad can rescue her" ones, but at least the former ones are more common overall, and I understand that both are important for the other one to work. So yeah, good show, even if I wish it used the big guns less often. 7/10
Toilet-Bound Hanako-kun
I wasn't too hot on this one at first (apart from the looks, which were always really cool), but I have to say it has won me over by the end. It has likeable and occasionally funny characters, some meat to its setting and a mildly interesting streak of intrigue running though it. Of course it also doesn't really answer anything, but I'm satisfied. 7/10
Yatogame-chan Kansatsu Nikki S2
Peer pressure presents: the other tourism short of the season, ft. material that fits the format. While it's still not really good, it's an improvement over S1. Mainly because it stops trying to extract humor from the characters themselves and gets back to dropping the hot #nagoyatruths, which are the thing I'm here for. 6/10