Hey it's curios anon again, I was putting some pieces together and I was wondering if you had a crush on the farmer? The reason why I'm asking is that you seem to be slightly blushing when you said that you watch them sometime. I might be wrong thought.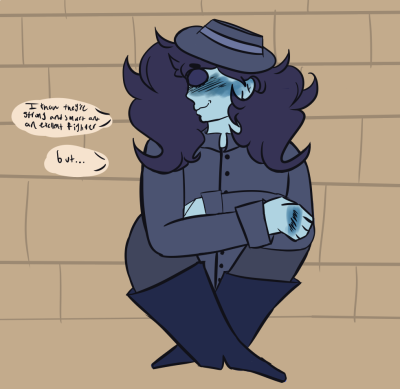 "*chokes on air* Hehehe… Clever you." "I may be interested in the farmer, I may not be. It's really none of your business either way." "…" "hnn…" "I just… want to protect them." "I know they're clever and strong, and an excellent fighter, but…" "That won't save them if they pass out down here, all alone." "I… I can't lose them." "I could have all the wealth in the world but it wouldn't matter if I lost them." "I can't help but be so afraid I'll find their lifeless body hundreds of miles underground one day." "*sobs* Fucking hell…"
—
i didnt like drawing him sad, someone give him another hug. this is why i posted the hug before this one. he trusts the farmer, he knows they can look out for themself, but he still worries. i fixed some of the text because i don't think he'd stumble over his words that much, even when he's upset like this. he still attempts to keep his composure and "cold, calm and collected, respectable businessman" facade.